I grew up in Southern California, about 20 miles from the coast. In the early 70's things that slid were the rage. Whether on water, snow, dirt or cement; surfing, skiing, dirt biking and skating were what we wanted to do. If you lived near the ocean, you or one of your friends was likely surfing competitively. Skateboarding was taking off.
Spurring us on was ValSurf: the Valley's original surf and skate shop. It was where we found the newest innovations and brands. Skating or surfing, ValSurf had what we needed. They ran demonstrations and coordinated with the sport's budding celebrities. It was our local mecca.
While our parents debated the impeachment of Richard Nixon, we debated what wheels, decks, trucks, and bearings built the best skateboard. Or the right number of fins, board shape, or wax made for the best surfboard and ride. We also had bikes. If you were really lucky, your parent's skied: and then so did you.
If it slid, it was likely it could go off a jump. And jump we would. We jumped on skateboards and bikes. We turned empty pools into skate parks and home construction sites into stunt parks. Most kid groups probably started slowly and ramped up, at least when it came to jumps and stunts: not us.
Our community of little daredevils was led by Reid Rondell (RIP). The Rondell's were a family of stuntmen. Reid's father was the original burning man: on Pink Floyd's "Wish You Were Here" album cover. He was the stunt coordinater for Mod Squad and Charlie's Angels.
His son Reid turned every new home construction site, partially excavated housing development, and empty pool into a terrain park. I remember coming home with knee gashes and broken bones. Our parent's were rightfully terrified. But Reid had unlocked something in us; that part of our primitive brain and hormonal makeup that preps us for something special. He had sparked our adrenal system and turned us into adrenalin junkies.
Reid started acting as a stuntman in his early teens and went on to become Tom Cruise's stunt double in Taps and Risky Business. Reid passed in an accident on the set of Airwolf. I owe my desire and courage to embark on a Great American Ski Adventure in part to Reid. Thank you Reid Rondell.
My first ski trips were to Mammoth Mountain in the early 1970's. Dave McCoy was installing chairs 11, 12, 13 and 14. There was excitement at Mammoth. It was booming. Mammoth's proximity to Southern California, about 7 hours, made it a ripe weekend trip for tens of thousands. For a time Mammoth was the busiest ski resort in America, regularly hosting 15 – 25 thousand skiers every weekend. Mammoth started having million season visitor totals in the late 1970's and hasn't looked back.
Mammoth was my lighthouse as a teenager. As often as I could figure out a way to get there, I got there. Parents at first, Dapper Dan's Ski and Sports Tours as a teenager. At 16, when I could drive, I drove.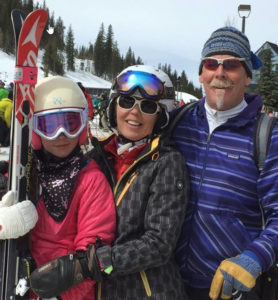 I'm a 3rd generation skier, competitor, coach, and instructor. I began teaching & coaching in the 80's in New Hampshire, where I grew up. I've been pursuing that same passion in the Southern Rockies since the early 90's, here in Taos Ski Valley since 1998. I'm an examiner and former Alpine Chairperson for PSIA-RM. I love to share my passion with others!
Michael's terse in describing his background but robust in experience. He was a competitive junior racer. He, and his wife, won the Nastar Corporate Cup Race, as well as numerous Master's Races. Michael finished with the fastest time at the 2005 Jeep King of the Mountain. Michael's girls were both junior Olympians. Michael also coached Taos's Alpine Race Team, which pound for pound (they had a very small team), took more podiums in the Rocky Mountain Division than any other team.
Michael grew up skiing New England resorts. He followed his passions west, to the Rockies. Fun fact, Michael's uncle Rusty was the ski carrying cowboy in Steamboat's iconic barn poster.
Over the years, traveling with Michael, I've met hundreds of instructors that he's certified. I've taken instructor courses with him and watched him teach instructors of all abilities.