Taos
Most get to Taos by taking Route 68 North from Santa Fe. About 11 miles outside of town as you rise from the canyon floor, a panoramic view opens up (its called the Taos Overlook). As you reach the rise, the earth opens like a scar. If you're fortunate to arrive near sunset, you see one of the most magnificent views in all New Mexico. The scar's walls (the canyon cliffs) turn purple, light streams between the clouds, the sky above fills with oranges, yellows, blues and shades in between. The scene is transfixing.
Resplendent skies meet majestic earth: Welcome to Taos.
Another 30 miles up Paseo del Pueblo Sur becomes Paseo del Pueblo Norte and then is crisscrossed by State Road 150, the road to Taos Ski Valley (TSV). TSV is in the belly of a canyon with high mountains rising on every side limiting your views. As awe-inspiring as your first views of Taos may have been, the Ski Valley is a letdown. Lucky for you, the skiing isn't.
People often describe Taos as a four-letter word for Steep. It is. Some ski resorts are better described as backcountry with lifts. Taos is in this category. No one in his right mind would have picked the valley 1,000 feet above Taos for a ski resort. Lucky for us, Swiss-raised US military intelligence officer, Ernst Hermann Bloch had other ideas. His military code-named was Ernie Blake, the interrogator of notorious Nazis Hermann Göring and Albert Speer. Ernie Blake imagined what others could not, an Alpine Resort in Northern New Mexico. You probably had to be crazy to have this vision. Just saying.
Taos is split into a front side and a backside. The front side consists of lifts 1, 2 and 8. The backside, chairs 7, 7a, 4 and Kachina Peak chair. For run orientation, I think it's worth thinking of Taos is two ways: runs you can see, and those you can't. I'll share the basics in this Section. For more details, see the skiing section below.
Taos Expert Skier Experience
The first thing you need to know about Taos is that many of its best runs cannot be seen from the chairs, runs or base areas. They are tucked away in shower curtain type ridges.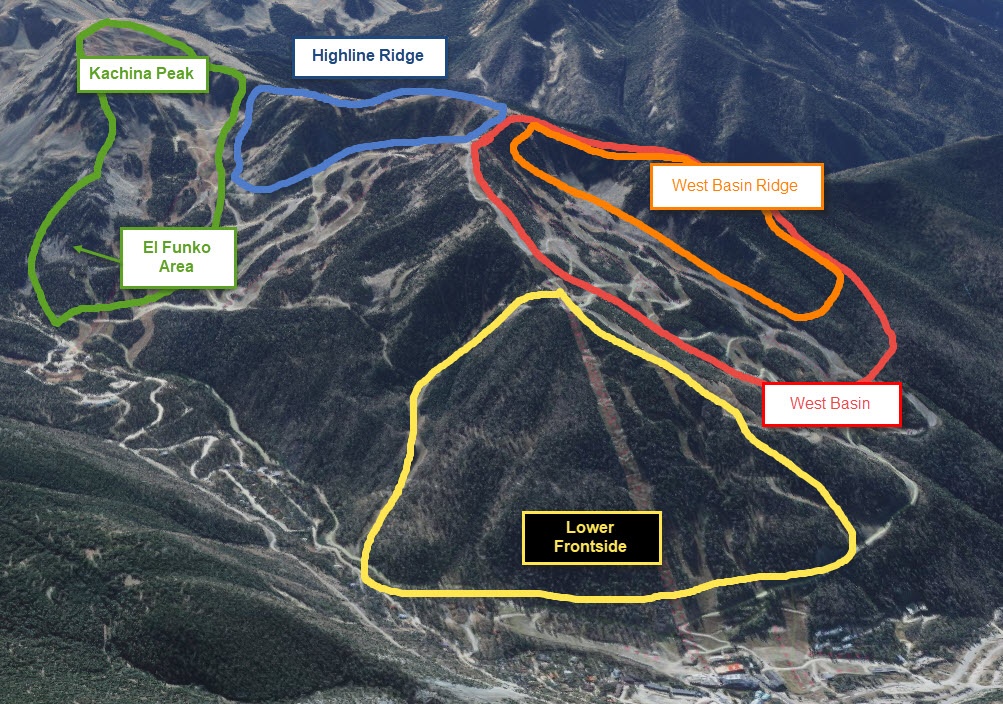 Taos Ski Runs You Can See
On the front side, from Chair 1, below you is Al's Run and to the right is Rhodas, Spencers, and Snakedance. From Chair 2, the area above you on the right is the West Basin. Halfway up on your left is Castor. At the top of Chair 2, just below hiking trailhead is a vantage point where you can see Highline Ridge and further to your left, Kachina Peak. To access West Basin, the World West, and Highland ridge, take the hike above Chair 2. It's a 10-minute hike of you're in shape, 15 if you come from sea level. At the top, called the T, head right for West Basin and the Wild West, left for highland ridge.
On the backside, looking up from the top of Chair 4, you see Kachina Peak on your left and Cabin Chute and Lift Shack Chute above you. Before you reached the top, you could see my favorite run on your right, Twin Trees.
Taos Ski Runs You Can't See
Runs you cant see are mysterious. If for no other reason than your forced to leave the beaten trail to find them. On the front side, at the top of Chair 1, above you and to your left is the entrance to North America, Ernies and midway access to Longhorn. About two-thirds down the run Porcupine on skiers right is the entrance to Jean's Glade.
When you get off of Chair 2 and ski toward the top of 7A you'll find the Walkyries, Bambi, and What chutes. Marking are minimal, so its wise to ask a local or Ski Patrol if you looking for a specific chute. A few hundred yards down Bambi on skiers right is the entrance to Lorelei. Lorelei is a beautiful run that can be skied in three areas. Skiers right is Lorelei Trees, straight ahead is Loreleis Boel, to the left (along the rope line) is called Lorelei sunny side. If you stay left along the Lorelei entrance, you can each Pierres and Werners Chute. Both spill into Longhorn. Further down Bambi, just above Zagava is the upper entrance to Longhorn. Longhorn is a signature bump run at Taos.
At the Top of Chair 7 head to 7A but stay left. Skiers right and then left is the opening to Ash Pond that starts steep and the filled but quickly leads into Walkyries Glade. To avoid the steeps, you can take a lower visible from Chair 7 skiers hard left on Moes.
Snow Hunting at Taos
Taos's base elevation is 9,200 feet. During the winter, rain almost never falls at this height. Most of the snow is light. It's a great late season resort because of the consistently good quality of snow. But steep mountains require lots of snow. Historically, 70-75 inches was generally required before the steeps would open. With Taos's new owner and the Kachina lift, things are changing. Steeper terrain is opening with less snow. This makes visiting Taos less of a risk if your goal is skiing the steeps. But more of a risk for injury.
Taos Signature Runs
Average snow conditions: Stauffenberg and Corner Chute.
Great snow conditions: Kachina Peak (anywhere you see a fresh line) and Wild West Glades.
Insider Hints
Both the St. Bernard to lookers right of Chairs 1 and the Bavarian at the bottom of Chair 4 offers outdoor deck seating. In December and January, the St Bernard loses sun early. So if you're looking for sun, eat early at the St. Bernard or choose the Bavarian.
Taos was founded by Ernie Blake. A headstrong and mysterious man who spent WWII as a US intelligence office. Many of the runs at Taos are named after people who tried to stop Hitler. Others after ski legends, from native American legends, historical martyrs and after various mythologies. See http://www.skitaos.com/trail-names/ for more details.
The Hotel St. Bernard and Le Ski Mastery. Much of the Southern Rockies were founded, built or guided by European skiers, many from the US Army's 10th Mountain Division. At many of the bigger resorts, it's hard to experience this old world charm. At Taos, you still can: visit the places below.
Hotel St. Bernard was founded and is still run by 10th Mountain Division instructor, Jean Mayer. Started by the Frenchman in the late 19050's, the Hotel has changed relatively little in the ensuing years and retains all of its European charm. If you can't stay there (its usually booked) see if you can book a dinner. It's old world family style dining among the most avid ski enthusiasts your likely to meet. Make sure you high to Jean. You might even as if you can ski a run with him. See their website here.
Le Ski Mastery is owned and run by Frenchman Alain Veth. Alain was a member of the French National Ski Team and raced in Europe and the United States. He is an expert ski tuner who honed his skills tuning for the US National Team. For years Alain ran Taos's top junior alpine race team. On a per capita basis, his kids racked up more awards in the Rocky Mountain Division than anyone else. That includes Vail, Aspen and Steamboat Springs. See the shop's website here.